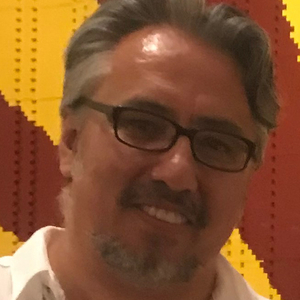 Hugo Medina
Special guest
Born in La Paz, Bolivia, Hugo immigrated to New York as a child, where his interest in art was fostered by his architect father. Hugo received his BFA from C.W Post/ Long Island University in 1998 and his Masters in Education from University of Phoenix in 2006.
While completing his undergraduate work in New York, Hugo volunteered to teach classes at a summer program at the Kumayya Indian reservation in San Diego, California. His experience at the reservation is what led him to become an art teacher. Upon completing his degree, Hugo's desire to give back to the community and his love of children led him to a teaching career. Hugo's great appreciation and admiration of the Southwest and a constant search for adventure brought me to Phoenix in 1998.
Hugo taught art at Squaw Peak School in Phoenix, while continuing to design custom metalwork and sculpture in his free time. During his two years at Squaw Peak, Hugo founded a after school art program to extend the arts beyond the classroom as well as to reach out to the community. In the course of developing this program, Hugo organized and facilitated a series of field trips and off-campus programs with the Scottsdale Art District, Scottsdale Center for the Arts, Arizona State University, Nelson Fine Arts Center, and The Arcosanti Foundation, many of which were inaugural efforts that proved to be successful for all parties.
After a three-year sabbatical to be "Mr. Mom," Hugo returned to teaching at Madison Park. During his two years at Madison Park he began developing programs, and writing grants for the school. Put together a silent auction which included donations from 40 professional artists from around the country, as well as works from the 730 students he taught. Developed a community garden that was built through donations from the community and grants. The garden now has an international peace pole, one of the 180 in the world and has won numerous grants to further its development.
Feeling his career needed to take a new direction. Hugo left teaching and began working for Ironco enterprises, a steel manufacturing company that was developing an metal arts division. At Ironco, Hugo learned the inner workings of metal construction and fabrication, as well as the use of us computer aided software to help expand his design capabilities.
Bio courtesy of http://www.hugosart.com
Hugo Medina has been a guest on 1 episode.
September 5th, 2019 | Season 3 | 36 mins 36 secs

arizona, arizona capital museum, canvas, dtphx, forty eight state, grand canyon state, hug medina, murals, native, not so, paintings, phoenix, phx, podcast, roosevelt row. art district, touch, wallace and ladmo

Rob had the opportunity to interview valley artist Hugo Medina following his recent art exhibit at the Arizona Capital Museum. Hugo's work can be seen throughout the Valley including several murals in downtown Phoenix. One of these murals a tribute to Wallace and Ladmo.